Custom Order Products – Non-Stock Items
Books of Choice Bingo Paper
Must Have for
Multi-Level Play
Books of Choice® is a must have for multi-level play and a real cost saver for games that use only one level of play. Players, callers, prize cashiers and floor workers can spot at a glance the prize levels being played because each page of the booklet is the same color and each color designates a different level of play. The page number on each 3 ON page of this innovative Champion paper makes it easy to tell what game of the session is being played.
The first game of the session would be played on the first sheet in a booklet – the bottom right side of every 3 ON sheet would have Page 1 printed in black and highlighted in yellow for easy identification. For traditionally collated booklets, players would move to the next colored page for the next game in the session. For Books of Choice booklets, players follow the page numbers (i.e. Page 1, Page 2, Page 3, Page 4, etc.) versus page colors.
Serial numbers are the same on every page of the booklet in a set. This means less record keeping and makes it easier to check and ensure that the booklet in play was purchased that night in your hall. No one can play on paper brought in from another hall if you check the serial number. Everyone pays to play. In addition, you can sell Books of Choice in sequence so you always know the number of booklets that are sold each session and where the next session begins.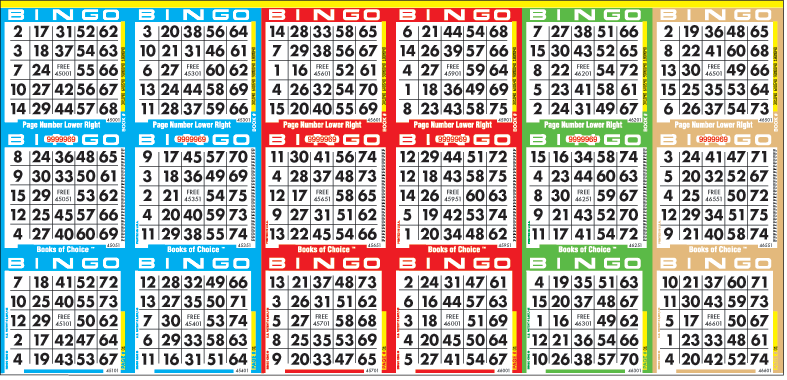 Sequentially numbered – easily track inventory and sales with every session.
Maximum security – eliminates illegal paper and missed revenue with common serial numbers for each set of booklets.
Page numbering – helps players and workers quickly identify which page is being
used in the current session.
Easier to use – play more progressive games and still maintain payout security.
Specials and extra booklets – use series that do not duplicate the series and color of the prize levels in play for extra specials, jackpot sheets and etc.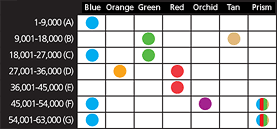 Custom Order Products – Non-Stock Items